2019 begins with the exciting announcement Angel Dog Incorporated is collaborating with DogWise to build worldwide digital access of in-demand training with our Sound Socialization Training.
This partnership makes it much easier and faster for breeders, dog owners, and professionals to jump into award-winning, and professionally recommended positive Angel Dog Sound Socialization training. O'Neal Scott, owner Angel Dog Incorporated, and developer of Angel Dog Sound Socialization shares, "Our Angel Dog Sound Socialization Training CD is a very popular product and makes a positive imprint for dogs in our sound stimulating world. Up until now, our distant clients experienced increased shipping costs and delayed receipt which was often an obstacle to obtaining the training. Angel Dog and DogWise are excited to expand service to additionally provide this training in an easy and smooth digital transaction for immediate use to our worldwide clients. It's one of our new offerings to our larger client base this year, and we expect it to do well."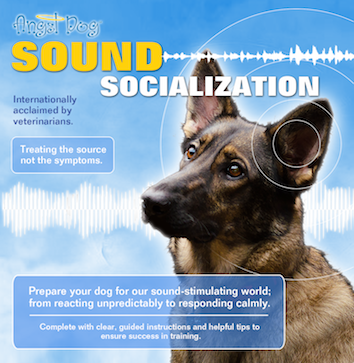 "We look forward to rolling out more digital training courses this year and we are very excited to provide quality dog training to the world. Even the remotest areas can have access to positive relationship dog training."
International customers, visit DogWise to order your Angel Dog Sound Socialization training for immediate download and get going with your pup's socialization training. It's never been easier or more convenient.
Please check angeldoginc.com often to learn of our new quality offerings or better yet, opt-in to be the first to hear about great new dog training and the latest Free updates of all things dog delivered to your inbox!